ILLENIUM is on fire this week announcing a new album, another single, and 2023 tour dates. His fans are going wild on the internet with the amount of anticipation pulsing their body. His new single 'Luv Me A Little' with Nina Nesbitt came out on streaming platforms immediately with his announcement. A day later, Nick came to his massive social platform to top it off with his 2023 tour dates.
ILLENIUM's new lullaby, 'Luv Me A Little'
The dubstep artist is finding his true colors in his music and 'Luv Me A Little' shines its light on that. You can hear the classic dubstep style drum beat combine with a beautiful melody and ambient sounds that imitate another world of smoke and fire. The chorus sung by vocalist, Nina Nesbit creates the connection between the listener and 'Luv Me A Little'. ILLENIUM continues to chop that vocal into ear candy to go with his empowering drops. Together, all the elements of this masterpiece sing in harmony to make another world famous ILLENIUM song.
ILLENIUMs North American, European, and Australian tour
In the week of ILLENIUM, he has announced an album dedicated to his true form, a new single, and now a world tour! This tour will mostly surface in North America but will sail to Europe and Australia. There are 24 scheduled events in North America. The Gorge ILLLENIUM event and his Colorado Trilogy are amongst those. New York, San Francisco, Houston, Orlando, and many more major cities will also be visited by a new stage and visual experience.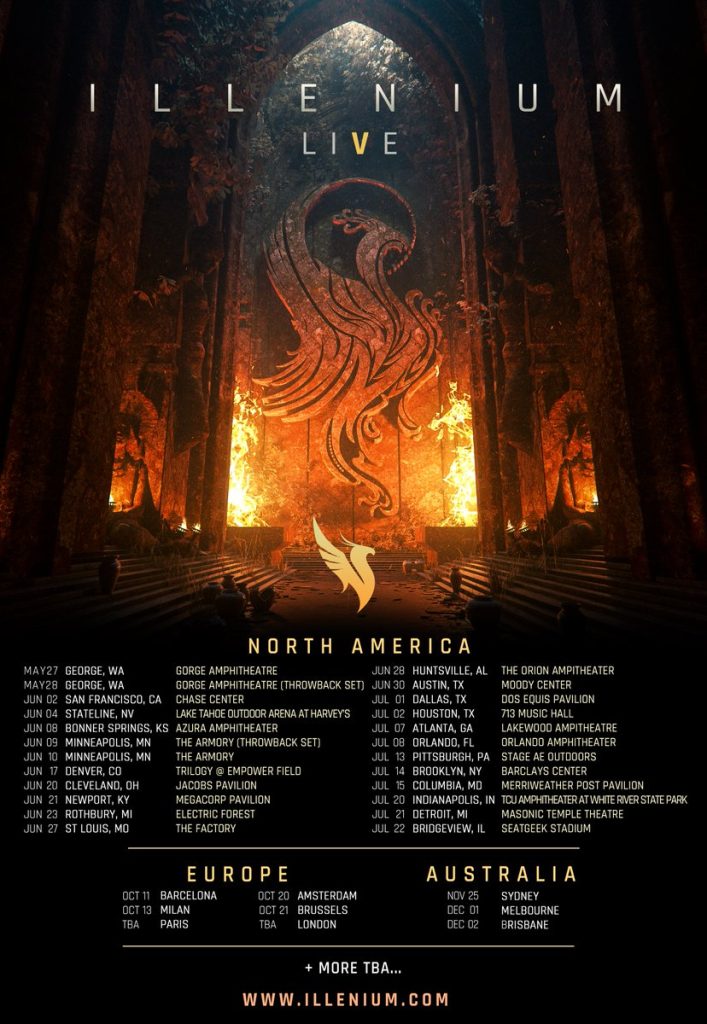 ILLENIUM has done an amazing job at finding fans all across the world. He is loved by so many and is well aware. In return, he scheduled shows in European cities of Barcelona, Milan, Paris, Amsterdam, Brussels, and London. Thats not it, Australia cities of Sydney, Melbourne, and Brisbane are set for visits too.
These shows are only what is scheduled now, ILLENIUM made it clear there are more to be announced. This list of shows will be one of his biggest yet and like always he will provide. His presale will start Tuesday the 24th of January at 10 A.M local. If you join the presale you could see a special Vinyl option for his new album, ILLENIUM.
ILLENIUM week conclusion
If you are one of ILLENIUM's loyal fans, you know the amount of hard work and emotions Nick puts into the ILLENIUM project. He has created it from the ground up and never struggles to make it bigger every year. So, go stream 'Luv Me A Little' and get in line to purchase your future unforgettable night with ILLENIUM. Get ready for the biggest year yet with a new album, new tour, and new over all feel diving into his true sound.
'Luv Me A Little' – Stream