This seems to be the year of Eric Prydz' HOLO! The brainchild of the Swedish progressive house legend, the audio visual extrgavanza is like no other. It is gradually making its way from the famed arenas & festivals to a broader global reach across countries and continents. 12 months previously and the next few apparently is a defining timeline. Bound to be the period that makes this transition complete to HOLO's credibility. The credibility as a worldwide trendsetter.
New York is the latest addition to the HOLO roster that has already seen its massive expansion over a short period of time. The customary appearances in the famed arenas and festivals spanning across Tomorrowland, Ultra, Creamfields, etc are now accompanied with alternative venues and countries. Brazil, Mexico & Australia now proudly boast to be associated with the spectacle. In the past, this was previously virtually impossible given the meticulous planning and detailing that goes into this spectacle, even being junked at times in the past.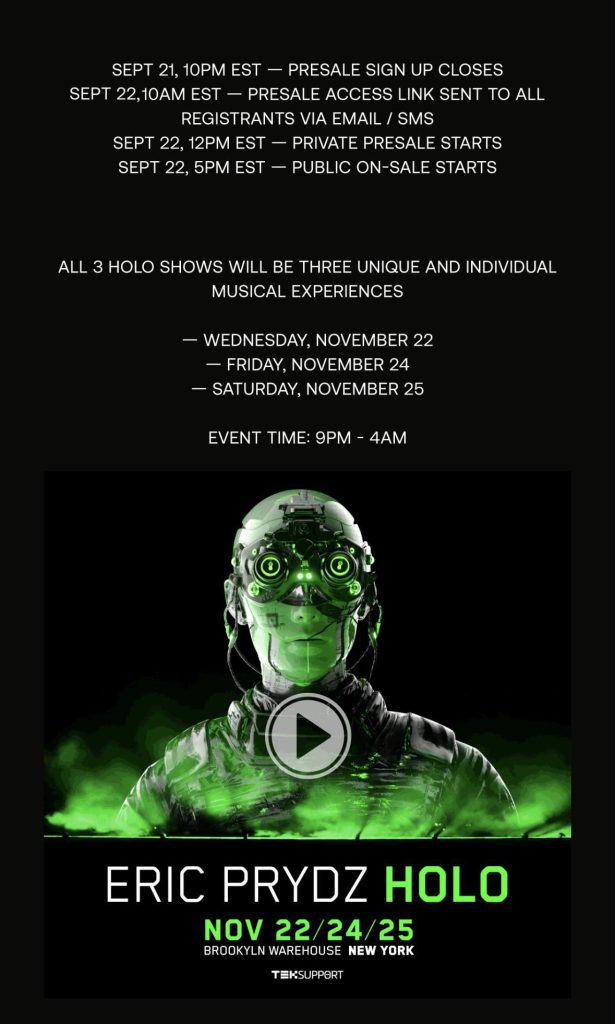 Teksupport hosts the extravaganza in New York. According to them, all 3 HOLO nights will be different. November 22, 24 and 25th are your dates to schedule attendance. Brooklyn Warehouse is your venue. 12PM EST (private pre-sale) and 5PM EST(public on-sale) on September 22 are times to mark to secure your passes.
Sign up here to witness!