Svdden Death, the renowned star Bass DJ, has cancelled his Harbinger tour due to physical and mental exhaustion. The artist, who has become one of the world's most innovative and creative DJs, cited the high demands on him and his team to pull off everything they did this year. Those demands include working on four music projects and hosting one of the most popular new Bass music festivals (read the complete statement below).
Despite the cancellation of the tour, Svdden Death has promised to continue playing at Escape, Boo!, and his Echoplex show. These three shows will mark the end of Svdden Death's 2023 tour schedule unless he still plays Countdown NYE.
Svdden Death's dark conceptual style has garnered him a cult-like following among fans dedicated to his brand. However, the pressures of the music industry have taken a toll on the artist's physical and mental health.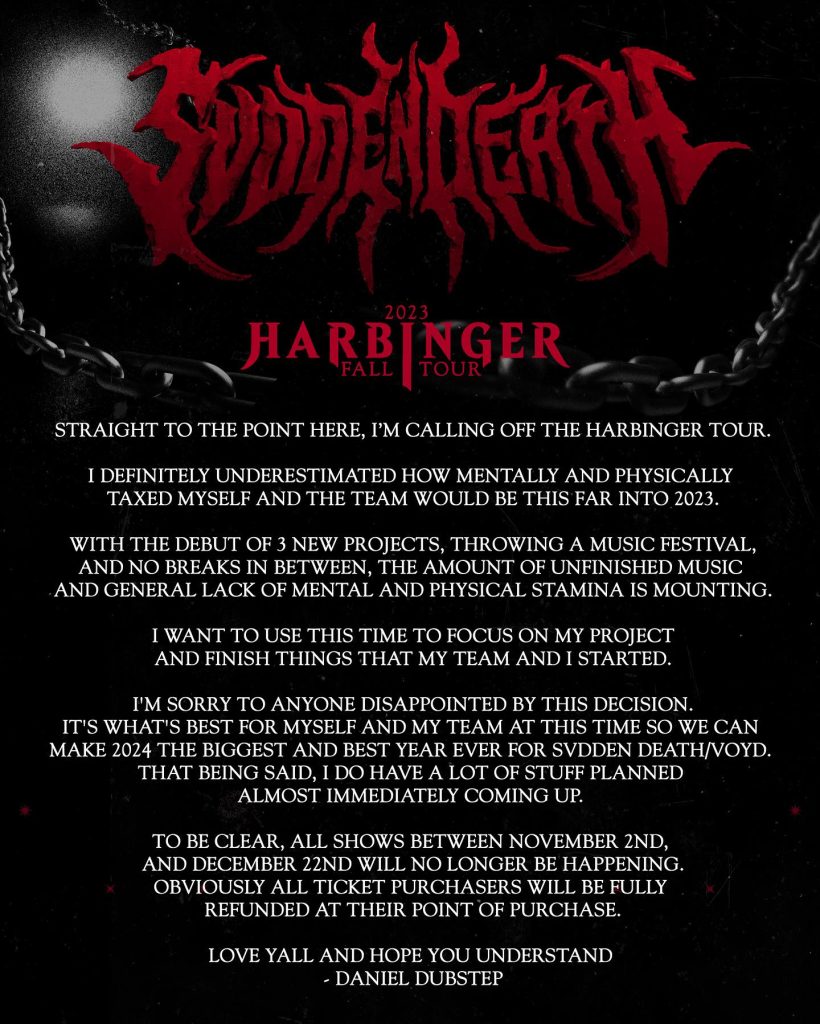 Additionally, the situation serves as a reminder of the importance of self-care and the challenges faced by artists in EDM and music as a whole. Fans have expressed their support for Svdden Death and his decision to prioritize his health and well-being.
The cancellation of the tour is a disappointment to fans eagerly anticipating Harbinger. However, the artist's well-being is paramount, and fans should expect a massive 2024 for Svdden Death.
We wish Svdden Death and his team the best and look forward to seeing what they have in store for us next year.
Photos via Facebook: Svdden Death