If you trace the history and evolution of Ultra Music Festival, many would point to years like 2013 and 2018 as absolute high points for the festival. Both years featured impeccable lineups, historic Swedish House Mafia closing sets, and tons of hype. Ten years on from the doubleheader weekend of 2013, Ultra had big shoes to fill. Ultra 2018 is widely regarded as the festival at its zenith before it fell into a years-long slump. First, it was battling with the City of Miami and losing Bayfront Park, then it was a mixed reaction to Virginia Key and being kicked out of there, and then it was COVID. After a decent restart in 2022, I'm thrilled to report that Ultra has its 2018 mojo back, and then some! All in all, this will shape up to be one of Ultra's best years in every respect.
The theme of Ultra 2023 was listening to feedback. My contacts at Ultra told me that they truly listened to all of the feedback from last year, and it shows. The people wanted better mainstage design, better bathrooms, a killer lineup, better sound, a redesigned Cove stage, and better competition with Insomniac's Miami takeover (Space/Factory Town). If you observed Ultra this year, you can confidently say they checked off all of those boxes.
Stage Designs
Ultra understood the assignment this year! At first, we had our concerns about the mainstage design as we watched it being built, but then it turned out to be a beast. The 2023 mainstage took design elements from 2015 and 2018 and mashed them up to create a stage that will be beloved for years to come. In the pantheon of Ultra mainstages, it will probably rank near the top.
It goes without saying that the Megastructure blew everyone's minds once again. It's not the biggest in the world, but it is quite possibly the best single dance floor in the world. Between the insane light panels up top and the view of the city skyline behind, there's no other stage anywhere that can replicate the vibes of the Resistance Megastructure.
The bigger and more pleasant surprise was the Cove stage design. Last year the Cove stage was a letdown, it was too basic and the orientation made the crowd situation unpleasant. This year the design was amazing and really lived up to the Resistance Island callback concept for the Cove. The stage was nearly transparent during the day so you really felt the tropical vibes of the bay and the palm trees with the sun creating a gorgeous vista. The simple design was also impressive in its incorporation of LED screens. The Cove has finally come into its own and people should absolutely go check it out if they haven't yet.
Bathrooms/VIP
Ultra did away with porta-potty cities, joining festivals line Tomorrowland in elevating the restroom experience for everyone. It appears that the lines were a bit long, but there were no complaints that I heard. Although it does beg the question of what remaining PGA perks are worth the added price tag. Unfortunately, I can't comment on the VIP experience this year because media attendees were not granted access to those areas. This is really the only downgrade from last year, so that's saying a lot already.
Lineup and Sound
The lineup for Ultra 2023 was simply astounding, and it's why Ultra remains one of the top dogs while still being much smaller (and more expensive) than EDC Vegas and Tomorrowland. Anybody buzzworthy in the dance music scene in 2023 was there (except Solomun, Skrillex and Fred again). Any set that you absolutely must see once in your life you could have seen there. Charlotte de Witte got to captivate the mainstage audience on Friday in a groundbreaking first for techno on the mainstage. Everything that made the best Ultra's so special was back. We got deadmau5 (twice – once as testpilot with HI-LO and then with Kaskade), Swedish House Mafia, Carl Cox, and Eric Prydz HOLO finally happened after first being tried way back in 2014. We finally got Adam Beyer Cirez D after years of waiting, and boy was it worth the time. Whatever complaints there were about the sound last year seem to have been resolved this year.
Resistance Miami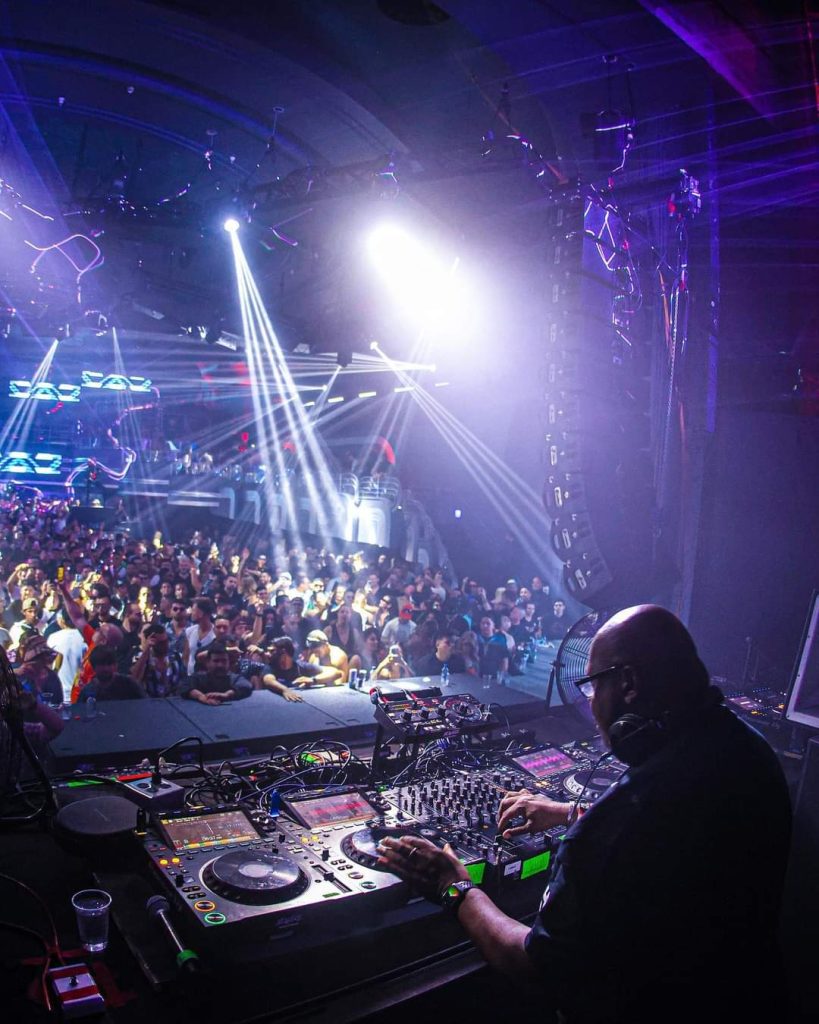 Ultra finally decided to go head-to-head with Space and decked the f**k out of M2 (formerly Mansion). The expectations were very high and Resistance Miami exceeded them. M2 had amazing production, lighting, CO2, and a stellar lineup. The only possible change worth making might be making some portion of the second level accessible for GA (perhaps the portion right near the stairs), because it did feel a bit empty up there due to the VIP-only limitation. That being said, it was the most spacious and pleasant club VIP experience you'll find, and if the goal was to make it very exclusive then the goal was achieved. Not to mention, the GA space never felt overly crowded either. Even with sold-out shows featuring names like Adam Beyer, Charlotte de Witte, and Carl Cox you never felt cramped like you might feel at Space, and you certainly never felt treated like cattle in GA as you do at Story or LIV.
What you may not know is that M2 was not even operating at full power. The central light fixture has panels that can independently move up and down like the megastructure, and the centerpiece has concentric circle LED panels that can come down as well. However, these were not in operation this week due to a motor upgrade that was required by the fire inspector. Needless to say, you want to go to M2 during Race Week in May.