Future bass titan and Rocktronic guru, ILLENIUM announces his 5th and most distinctive album 'ILLENIUM' to be released on April 4th, 2023. On twitter, with the announcement Nick mentioned that this album is his core sound.
"To me, a self titled album is the core sound of who I am. I see this album and it's story as a prequel to the Trilogy, where I get to explore my original musical inspirations and blend something that truly feels fresh."

– Nick (ILLENIUM) via Twitter
In another program ILLENIUM mentions the 5th album being his favorite to date. It will share the same rocktronic vibe that you can hear in 'Feel Something', 'Shivering', and 'Story of My Life'. This will be the true colors behind Nick's music taste and original inspirations; the crown piece of his discography.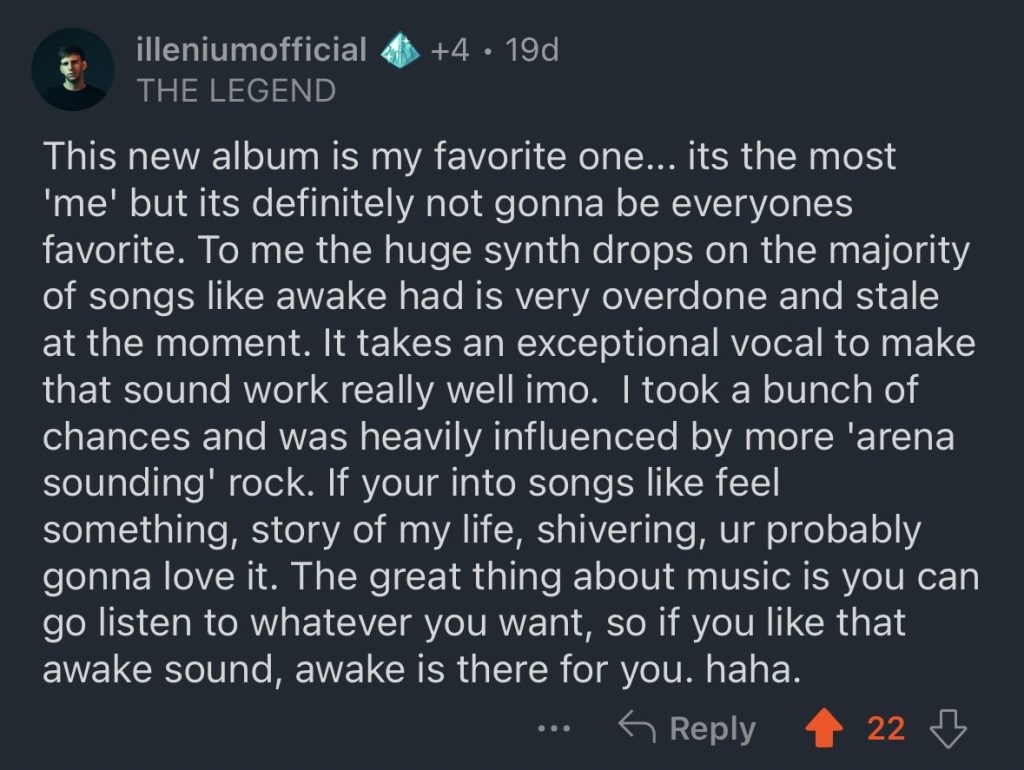 What else dose ILLENIUM have in store for 2023?
2023 is looking super hot for the superstar with 'ILLENIUM' being his 2nd big announcement for this year. The 2nd Trilogy event is also suppose to take place. It will be held in Denver, CO at the Empower Field Mile High on June 17th, 2023.
Thankfully, it is scheduled after the release of the 5th album so we'll be able to see the new set of tracks live. At the Trilogy event at Raiders Stadium in Las Vegas, all 3 of ILLENIUM's albums were played. Now coming up on the 5th ILLENIUM album, this Trilogy should not be one to miss.
The Gorge, another ILLENIUM curated event will be in May the 27th- 28th. Also, Insomniac invited Nick to headline Electric Forest, One of their biggest festivals in the United States. It will be the following weekend after his Denver Trilogy event. As you can see, 2023 is going to another wild year for his Illinals.
Conclusion
After taking the fore front of the EDM community in 2019 with his ASCEND album and playing at some of the biggest venues in United States ILLENIUM has not stopped. He continues to release album after album with almost 20 tracks each. Each year being more successful than the last and packing a bigger punch. 2023 is going to be his biggest yet.