Brooklyn Mirage season is back! The popular outdoor music and event venue located in East Williamsburg, Brooklyn, New York City had its highly anticipated season opening this last weekend. Known for its large open-air space, which can accommodate thousands of people, its state-of-the-art sound and lighting systems, and it's versatile 150 foot wrap-around LED screen, the Mirage is considered to be one of North America's most sought out venues for electronic music. The 2023 season kicked off Friday and Saturday with two back to back sold out shows from House Music DJ and Producer Chris Lake and his label Black Book Records. The weekend closed with renowned French DJ and Producer Tchami, and a special surprise Tchami x Malaa: No Redemption set Sunday evening. Dance music fans across the city and visitors from of town were treated to the Mirage's full glory and its return to operations since October 2022.
The first two nights of the Blackbook Records showcase received a bit of controversy online as the season opening shows were filled to capacity and left many attendees and fans frustrated at the experience of navigating a dance floor packed from wall to wall. However, having attended the shows myself, I can confidently say that despite the large sea of people, most people in attendance were genuinely nice and the staff were helpful for the most part. The crowd size was probably an indicator of just how excited everyone was to be back to their favorite venue seeing a big name like Chris Lake. When I returned for Sunday's Tchami show, there was not quite as many people as the first two nights of the weekend. This could have been because it was Sunday, not a fully sold out show, or that there was rain in the forecast. Either way, it was the perfect amount of room and the perfect conclusion to the opening weekend. I left feeling extremely satisfied and happy to have staved off the Sunday Scaries.
Production for all three nights were top tier (as always) and every artist on the stage seemed to be genuinely enjoying themselves. Chris Lake debuted several IDs and played many of the tracks he had showcased recently in Coachella. Tchami wowed the crowd with his immersive visuals and signature heavy basslines that drove the crowd wild. Concluding the night was a surprise Tchami x Malaa: No Redemption set in which the French duo played back to back, something they haven't done since 2019 on their No Redemption Tour. All of the supporting artists of course deserve equal praise, as it truly takes a village. Can't wait for the rest of this exciting season!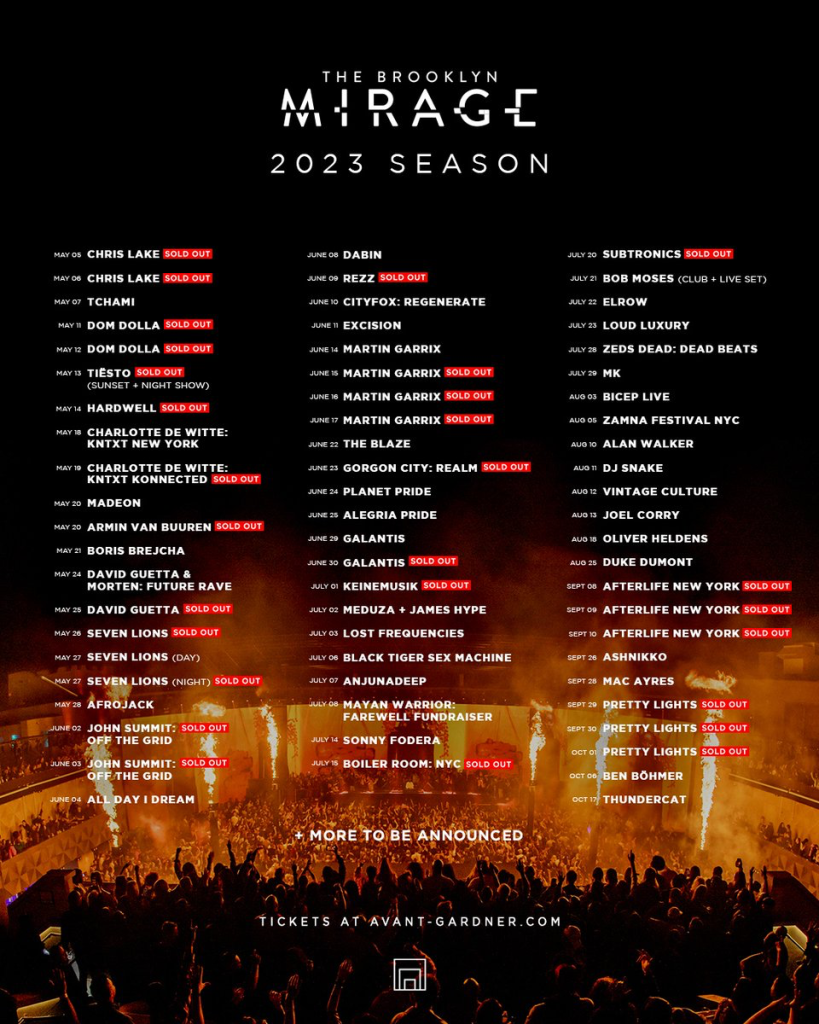 The Brooklyn Mirage is operated by the events production company, Avant Gardner, and was first opened in 2017. The venue hosts a variety of events throughout the year, including concerts, festivals, and parties, featuring internationally renowned DJs and performers from a range of music genres. The venue also features several bars and food vendors, as well as art installations and immersive experiences. With its unique atmosphere and impressive production values, the Brooklyn Mirage has become a must-visit destination for music and event enthusiasts in New York City and beyond.