I just returned from my second Groove Cruise on the Celebrity Summit with plenty to say about why you need to check it out. As somebody who has been attending festivals since 2011, Groove Cruise is an experience unlike any other. If you think maybe you're growing out of the typical festival experience, then Groove Cruise is definitely for you. Groove Cruise Miami 2024 is already on sale and selling out fast.
1
VIP Experience for Everyone
Probably the best thing about Groove Cruise, or similar events, is the fact that everybody gets VIP amenities. There isn't even a VIP ticket for Groove Cruise because what else could they offer? Everybody gets a nice stateroom with twice-daily cabin steward services, unlimited food available 24/7, drinks on demand, working sanitary bathrooms, comfortable seating, and plenty of room.
Where else can you be raving at 6am, go down a flight of stairs, fill up a plate full of pizza, and bring it back up to the rave to eat while you dance? That's the beauty of Groove Cruise. You can go as hard or as soft as you'd like. If you wanna watch your sets from the comfort of a hot tub, no problem. If you want to hang out on a lounge chair, no problem. If you need to run to the bathroom or to your room to get something it's only a short walk away.
You can stick to the buffets or go to the fancy ship restaurants. Best part? There's no dress code anywhere. The main dining room which would normally require pants and a collared shirt will be filled with people wearing tank tops, costumes, or maybe just pasties. You'll find people roaming around with portable speakers blasting house music. It's something else.
For ravers in their 30s and up, these creature comforts are growing more and more valuable as the years go by. If you're feeling too old for 8+ hours of raging in a parking lot with nowhere to sit and no clean bathroom, then you need to check this out. Partying with this level of VIP amenities is a gamechanger.
2
Eclectic Lineup
The lineup is very eclectic, for good or for bad. There are certainly a few headliners that everyone will know, but there are also a lot of artists you won't know. The thing is, these artists are still super talented in their areas and you just never had the opportunity to see them before. Since the lineup isn't necessarily jam-packed with must-see headliners, there's so much more flexibility to party when you want and check out all the different stages at one point or another.
This isn't your typical festival with numerous soul-crushing conflicts. There's definitely some sets that everybody will want to check out, but this isn't a festival concerned with massive overcrowding. No matter what set you attend, there will be plenty of space for you anywhere around the stage area. You'll undoubtedly discover new artists here that you'll be thankful you stumbled upon.
3
Facetime with Artists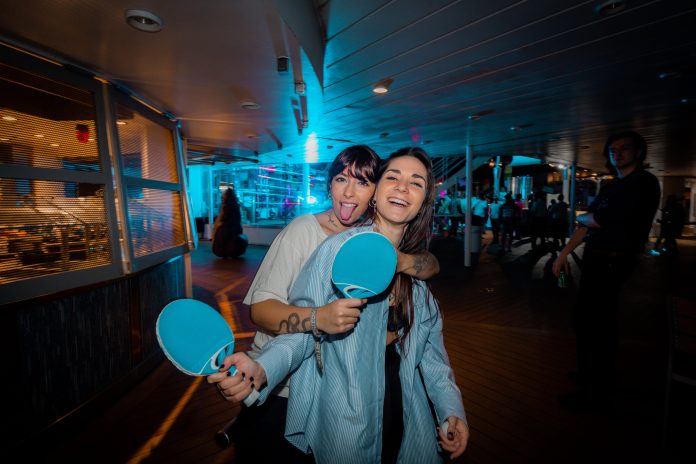 Ping Pong with Gioli & Assia
Perhaps the coolest part about Groove Cruise is that these artists are passengers on the Celebrity Summit just like you are. It's their vacation too, and while you're watching a DJ set in the ship lobby you'll be watching alongside a bunch of other artists and their teams. You'll have the opportunity to chat up artists like Gioli & Assia, Nostalgix, EDX, Jauz, and whoever. Everybody is vetted before stepping on the ship and everybody is basically a VIP here, so some stages even let you walk behind the decks like an industry insider.
Ever wanted to play ping pong with one of DJs on the lineup? Groove Cruise has got you covered. Want to go on a roller coaster in Labadee with Genix and Grum? That's on the list too. Have an interest in learning more about the music industry? You might get your chance to network here.
4
The Crowd Maturity
The most remarkable thing about Groove Cruise is the average age onboard. I don't have the exact statistics, but it feels like a majority of Groove Cruises are late 20s and up (probably more like 30s and up). It's a very mature crowd, but that doesn't mean it's a lame crowd. These are seasoned ravers who have been partying for years. They come prepared in every way, but they're all nice, polite, and fun. You won't see people getting out of hand throwing up everywhere, even with the unlimited drink package.
5
The Whet Oasis
This is truly the most underrated aspect of Groove Cruise that hopefully carries on next year with the Norwegian Encore. The Summity had a large solarium pool with huge rooftop glass letting you watch the sky above. The pool was heated and came with 2 hot tubs that were even hotter. This room was a 24/7 chill zone. The pool was setup with these large grates you could lay in that shot bubbles on you. All the while, a DJ-Shaman played yoga/meditation style music on a DJ table covered in candles. It was not only relaxing, but very sensual as well. My group stopped by here every night for at least an hour to relax and recharge before continuing the party.
On top of the pool, there is a giant area of super comfortable pillows and body massagers where you and whoever can cuddle up and nap too. Once you've done this, it makes you wonder how you ever survived an all-night party without one.
6
The GCFAM
The Groove Cruise community is so die-hard, it's almost cult-like. There are color codes for the number of times you've been on Groove Cruise. Many people you'll meet went once and just never stopped coming back. It has become like a once-annual family reunion where there's no judgment and nobody gives a f**k. This is where you truly let your hair down, because what happens on Groove Cruise stays on Groove Cruise.
Each day and night has a costume theme, and these people do not f**k around. The costumes are whacky and immaculate. EDC has got nothing on these people. There are glovers, hoopers, you name it. You have no idea what many of these people look like in "real life", but this is where "work hard play hard" truly finds its meaning.
The GCFAM is so special because everybody across the ship just wants to be your friend. Step in the elevator and whoever is in there will probably chat you up. Everybody is high-fiving each other, sharing drink suggestions at the bar, giving out funny stickers or kandi, and just generally treating each other like old friends.