Ra Ra Talks His New EP 'I Am What I Am', Working With T.I., Hustle Gang's Upcoming Project & More with HHS1987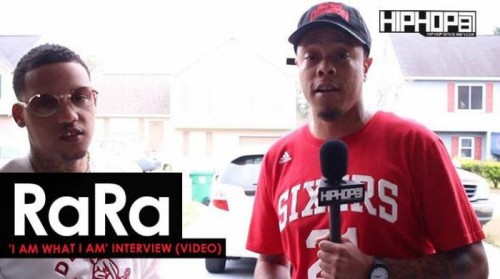 Hip-Hop artist Ra Ra has grown in many ways as a man and as an artist in the past few years and it appears his time is now. After sitting back and learning the game from some the best to ever do it, Ra Ra is ready to share his gifts with the world.
On Friday March 10th, Hustle Gang's own Ra Ra is set to release his new 7 track EP entitled 'I Am What I Am' so we caught up with Ra Ra to get some insight on his new project.
We have been following Ra Ra's moves for a few years now and in that time span, Ra Ra has worked as an artist or producer with Meek Mill, T.I, Killer Mike and others sharpening his skills. Ra Ra broke down his 7 track project 'I Am What I Am' and where he was mentally when putting the project together. Ra Ra broke down his track listing and explained the concept his EP and his reasoning behind his limited features. Ra Ra explained how he wanted people to get to know him as a artist and listen to what he is bringing to the table. Outside producing some the tracks himself, Ra Ra worked with Cory Mo, Honorable C Note, Tone Jones and others for this project.
Looking to shake the game up in the next 30 days, Ra Ra informed us that in the next month he plans on releasing part 2 'I Am What I Am', with 7 new tracks on that project. Before concluding the interview, Ra Ra spoke on his role in the fashion world. With his new line 'DCO' (Dry Clean Only) on the way, Ra Ra informed us his upcoming fashion plans, a new Hustle Gang album that is on the way and more.
Ra Ra's 'I Am What I Am' interview was conducted by Terrell Thomas (Eldorado). Ra Ra's 'I Am What I Am' interview was shot by Danny Digital.
Follow Us On Twitter/ Instagram:
@1DopeboyRa/ @dopeboyra
@Eldorado2452
@HipHopSince1987
@DannyDigitall