People Can't Handle Elon Musk Naming Kanye West His Inspiration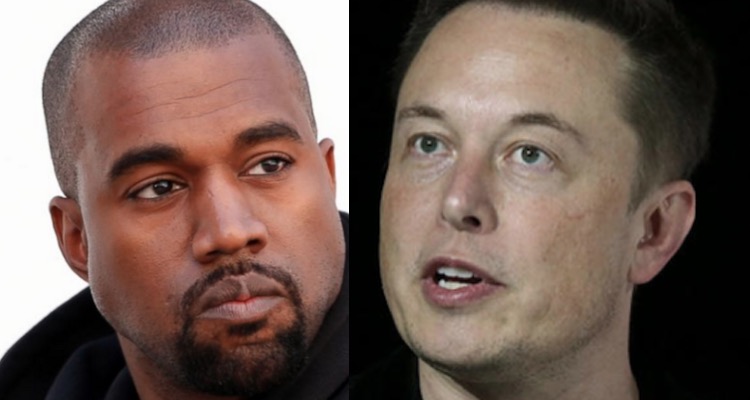 The audience at SXSW couldn't get a hold themselves after space-travel maestro Elon Musk named Kanye West as his source inspiration.
Kanye West is an inspirational person, course. There's no doubt about that.
Among artists that have debuted in the 21st century, none has more Grammy awards than his 21. All seven his albums to date have had critical and commercial success, and three them were ranked on the Rolling Stone's "500 Greatest Albums All Time".
Kanye raps, sings, record-produces, designs apparel and is a successful businessman. As a cross-generational idol the masses, his place in the modern cultural pantheon is assured. 32 million albums and 100 million digital downloads is just another footnote on his impressive prile.
Yet it seemed something a farce to some people when Elon Musk declared Kanye West his main inspiration on Sunday.
The SpaceX founder and CEO, much celebrated for his own achievements in space tech and green energy, was a surprise guest the 'Westworld' panel at SXSW. When Westworld creator Jonathan Nolan asked Musk who his inspiration was, his casual reply was:
"Well, Kanye West, obviously."
Musk had his business face on as he said it, yet that didn't deter the Texas crowd from bursting into laughter.
They are an awkward duo, course. One is an abrasive (Taylor Swift would know), controversy-prone rapper who dropped out college to record a debut album titled College Dropout. The other is in the business designing electric cars to send to space.
It would be worth remembering, however, that this is not the first time Elon Musk has sang West's praises.
It was the tech mogul who nominated West for a slot on Time's 'The 100 Most Influential People' in 2015. He did so by gushing about the 40-year-old's "tenacity" and ability to "push creative boundaries". He also endorsed "Yeezy's" flamboyant nature by praising him for shunning "false modesty".
This latest backing the rapper on Sunday was almost like a final, public affirmation patronage.
Before Musk quoted Kanye West as the metaphorical spark plug to his Tesla Roadster engine, he had just finished an impassioned speech about things on earth that made him feel excited to be alive.
"There needs to be things that inspire you, that make you glad to wake up in the morning and be part humanity," he had said.
Most Twitter couldn't cope either. There are those, nonetheless, who didn't welcome all the fuss and laughter.
Thank you for tuning in, check out some of our daily updates and top stories. Also, make sure to follow us on our socials to get exclusive notifications and updates about your favorite artists. We appreciate your constant support for our blog.