HYTE Berlin Announces New Year's Eve Blowout at Funkhaus
It seems like 2018 is still ages away, and yet we're already salivating from all the jaw dropping event announcements that are coming our way for New Years Eve.
Near the top our list is HYTE's 24-hour NYE celebration at Berlin's Funkhaus, which has us geared up for a mind melting exploration through music. Featuring a lineup with the likes Ricardo Villalobos, Nina Kravis, Tale Us, Loco Dice, and so many more, HYTE is prepping to kick f the New Year with one the most buzz worthy parties 2017.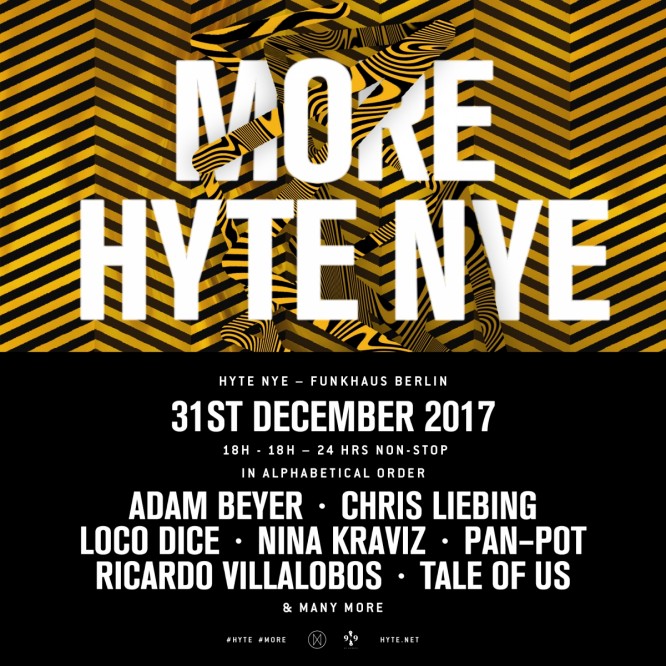 Heavy hitter after heavy hitter, are taking the decks from 6pm December 31st to 6pm New Year's Day for one HYTE's biggest events the year. HYTE has built an impressive name for itself over the last 3 years for its weekly events at Amnesia, one Ibiza's largest super clubs. Along with its events in locations across the globe, everyone who is anyone has led the bill for HYTE's massively popular events.
With extra special event production and a cool club layout, HYTE NYE at Funkhaus invites fans to explore the limits sound, body, and mind as they countdown the clock during this explosive New Year celebration.
Ready to take the plunge? Head over to facebook.com/HYTE for more info!
Cover photo courtesy HYTE and Nils Gelfort
Thank you for tuning in, check out some of our daily updates and top stories. Also, make sure to follow us on our socials to get exclusive notifications and updates about your favorite artists. We appreciate your constant support for our blog.