Brooklyn is Getting its Own Massive 24,000 Square Foot Nightclub
From the creators the "DIY music scene in warehouses" over 10 years ago, PopGun Presents partners Rami Haykal and Jake Rosenthal, are bringing us the ultimate music venue, Elsewhere.
Rosenthal told the New York Times, that the name itself speaks to what they want their venue to be: an alternative. Opposed to their previous creation, Glasslands Gallery, Elsewhere is in fact "an alternative" that focuses more on the needs its people. Unlike other DIY music venues, it will include air conditioning, large coat check areas, numerous bars and an ample amount bathrooms. But that's not all!
This $3 million project will have two different sized performance rooms, one that can hold 675 people and the other 200 people, an art gallery, lt bar, a daytime cafe and an open rotop that can hold 500 people for DJ sets and film screenings. There's something for everyone at this music venue and that's what truly sets it apart. Rosenthal tells Forbes, "We want it to be a place where people can spend all day and night at. Friends can roll through in the afternoon for cfee until the show, stay for happy hour, be there for an event or dance at night."
To give you a little preview what this Brooklyn venue will look like, here are five pictures from Elsewhere's website: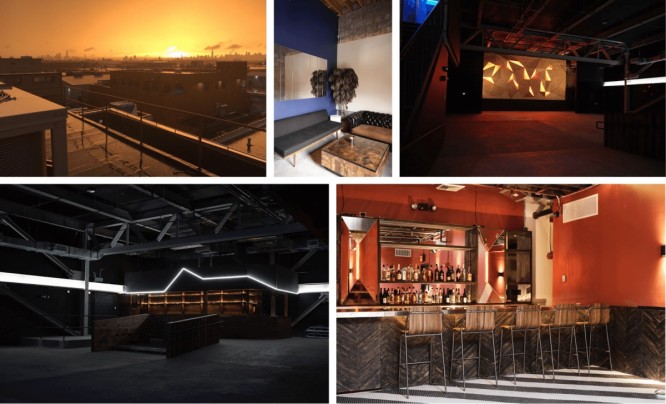 As you can see, the venue has a nice minimal look to it and that's because, instead focusing on interior design, they spent more time and money on what Rosenthal calls, "creative infrastructure." This includes lights, stages, sound systems and artist green rooms. Also, as much as possible Haykal and Rosenthal set out to keep most the warehouse's natural look, recycling some its original materials and leaving walls blank for murals and other art installations.
When it comes to music events, Elsewhere hopes to broaden its genres and include more hip-hop, folk, house and techno underground artists. In his interview with Forbes, Rosenthal says, "We put a lot thought and effort into presenting music. We really care about doing the best we can do for an artist, period. It really bothers us if we feel at the end an event there was potential that we didn't somehow reach. Sometimes you win, sometimes you lose."
On Elsewhere's website, you can already buy tickets for music events that'll be held from November to January. Some these artists include Anamanaguchi, Kölsch, TOMI, Juan Atkins, and Palm to name a few. You can check out the rest here.
So mark your calendars because this new addition to the DIY music scene opens in November just f the L train line at Jefferson in Bushwick, Brooklyn.