A Potential Return of TomorrowWorld Might be in the Cards per LiveStyle Website Updates
After a massively devastating third run in 2015, TomorrowWorld bid adieu to us all. Marred by terrible weather conditions coupled by poor planning, a ton the "people tomorrow" were left stranded enroute and on the back from its Chattahoochee Hills, Georgia home. Paired with SFX filing for bankruptcy, it wasn't long before Tomorrowland's North American counterpart stood cancelled.
Since 2005, Tomorrowland has been on the bucket list every EDM fan, it wouldn't be wrong to call it a pilgrimage for the dance music fan down to Boom, Belgium for this annual event. In September 2013, the festival made its first international journey to the United States, and found another home in Chattahoochee Hills, Georgia, just outside Atlanta. The naturally stunning surroundings the 8,000-acre farm resonated with Boom and provided for the enchanting ambiance.
Being Tomorrowland's first international edition, TomorrowWorld came with a lot expectations and big boots to fill. While in it's three years it did pretty much just that, 2016 saw SFX filing for bankruptcy and TomorrowWorld announcing it would not return in 2016.
However, like they'd said, maybe it was not a farewell for good. A recent update on the LiveStyle wibsite, however unsubstantial as far as details go, notes "we LiveStyle] continue to work with our partners to bring Tomorrowland to new territories outside Europe and to return to the USA and Brazil."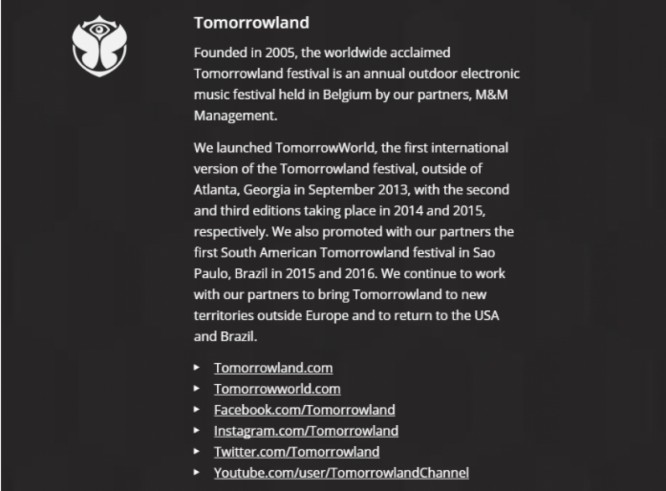 However short and nondescript this message may sound, it is being considered by many as an overt hint that LiveStyle will be reviving not only TomorrowWorld, but maybe even the earlier called f Tomorrowland Brasil. While LiveStyle has not shied away from indicating that it has all plans expansions in terretories outside the European domain, this recent website update might stand as an indication the much awaited return the earlier cancelled editions in addition to further expansions! And from the looks it, these might come through strong and soon, likely even as soon as 2018!
In the end July, hot on the heels TomorrowWorld, a lot hope was sparked regarding the return TomorrowWorld as well. Speaking about the festival's return in 2018, a Tomorrowland spokesperson said: "The relations between SFX and Tomorrowland were acidified, but now that new people are in control the current LiveStyle, there is a new approach."
Neither these pieces news however stand as any kind ficial announcement. However, putting two and two together, these might be adding up to a potential return a festival loved by many inspite any kind organizational issues its last running edition in 2015 may have brought.
Will the return TomorrowWorld be another addition to the roster festivals being managed by the newly-named North American President LiveStyle, Gary Richards? Well, we'll need to wait and watch out for any ficial announcement before we jump to that. But do we hope it is? Hell yeah!!
H/T: Dancing Astronaut